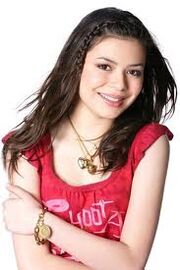 Miranda Taylor Cosgrove (born May 14th, 1993) is an American teen actress and singer. She is best known for her roles as Megan Parker in Drake and Josh, Summer Hathaway in School of Rock, and as Carly Shay in iCarly. She has also starred as Hannah in the movie The Wild Stallion.  Her acting career began in 2001 - she was spotted by an agent who was so impressed by her singing and dancing in a restaurant called "Taste of LA" that he signed her up for a number of small roles in commercials. Now she is doing iCarly, which is her third major role since 2007. She has won numerous awards in the Nickelodeon teen choice shows. Miranda has also done voice-overs for Adventures of Peter Cottontail andDespicable Me.
Trivia
Miranda began attending USC in the Fall 2012 semester
Miranda has a new website [12]
Miranda made a cameo in the music video for Best Coast's single, "Our Deal", which was directed by Drew Barrymore and co-starred Chloe Moretz. [13].
She wanted a bicycle for her 18th birthday (May 14, 2011), but she chose to fly to Memphis to help the sick children in the Stars for the Kids benefit for The St. Jude Children's Research Hospital.[14]
Miranda gets paid $180,000 per episode, second-highest of all teen stars in Hollywood, but then suddenly dropped to $150,000. Only actor Angus T. Jones ("Two and a Half Men") earns higher at $250,000 per episode. Victoria Justice, star of Victorious tied for eighth place, earns $12,000 per episode. But they have to pay commissions to their agents (10%), manager (10-15%), and 15% has to go in trust for the actor until he is 21, because of the Coogan law in California. That also doesn't count taxes. So, she may get to keep presently only 30-40% of her gross earnings. [15]
She tweeted after taking her last final exam, and graduated high school on June 8, 2011.[16]
Miranda's Top 5 favorite episodes of iCarly are iPilot, iDate a Bad Boy, iGo to Japan, iSaved Your Life, and iGot a Hot Room. [17]
iPilot: "Because it is the first episode we ever did. I love looking back on it and seeing how young we were and how far the show has come."
iDate a Bad Boy: "Because it was Carly's first boyfriend."
iGo to Japan: "Because we got to jump out of a plane, get splattered by mud and hold a possum!"
iSaved Your Life: "Because finally after three seasons, Carly decides she actually might like Freddie."
iGot a Hot Room: "Because it's the first time you see Carly's bedroom and you get to see while Spencer is a little wacky, Spencer is a great brother."

Miranda injured her ankle in Illinois.